Wholesale Lab Mixing Tank Model ZXP-30L
China Lab Mixing Tank Model ZXP-30L manufacturers
The Exemplar ZXP-30L Lud Apparatus Praeparans est instrumentum varios humores miscendos. Maxime exercendis humoribus in exploratione petrolei aliorumque humorum praeparandis adhibita est. Late usus est in agris petrolei, geologiae et metallurgiae, etc.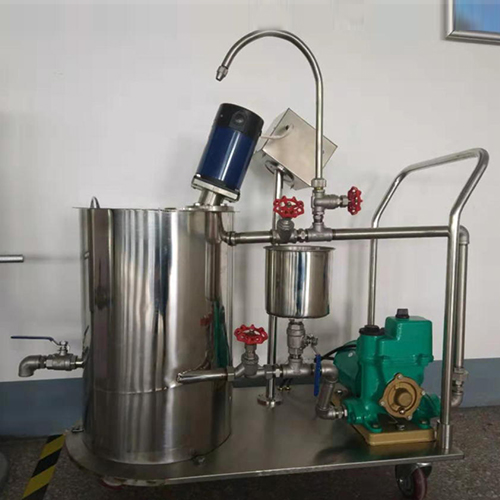 > span>
Self -priming pulpulationis machina circulatio maxime composita est e chassis, conventum miscendo, conventum pipelinum, conventum electricum commutandum et dolium assigandum. Structura eius consilium mobilem adhibet, miscens simul cum circulatione conclusa, et fabrica backwash clausa, ad vitandum diuturnum usum altae pressurae sentinam corporis et pipelines venenatis. Praecipue adhibetur ad praeparationem fluidi exercendi in exercitio olei, ac etiam ad alias solutiones parandas.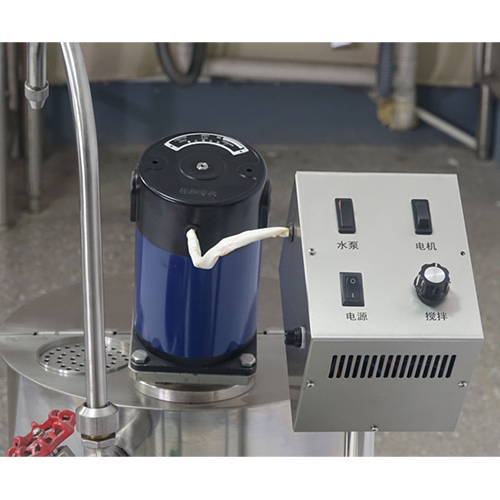 > span>
Self -Prima circulatio generis machinae pulsionis est, specimen secundum certa proportione in cylindrum mixtum praeparare, agitantem per agitatorem, simul valvulam accommodare, ita ut liquor in mixtione cylindri cyclum efformet, curet. quod specimen in statu cycli plenae moventis, densitas liquida eadem pars est.
2. Product Type Specificationde Lab Mixing Tank Model ZXP-30L
| | |
| --- | --- |
| Model | Name |
| ZXP-30L | Lab mixtura piscina |
3. Productum Technical Specificationem de Lab Mixing Tank Model ZXP-30L
No.

Technical Specification

1

The aestimavit voltage

Potentia agitatoris

0.37KW

3

Pump power

0.37KW

4

rotate velocitatis

0~1400r/min

5

Mixta capacitas

30L

6

Maximum fluentum

1.8m3/h

7

Net pondus / pondus grave

81.38kg

8

Propositum dimensiones

1110×460×1050mm

9

Passia amplitudo

1150×600×1050mm
4. Company Introduction of Lab Mixing Tank Model ZXP-30L
Our societas R&D committitur et fabricanda est analysris fluidi exercendi, oleum bene testor cementi, laboratorium oilfield solutiones machinationis integratae et instrumenta experimentalis operas sustentationis. Praeteritis XL annis, cum cura et auxilio utentium oilfield, periti ex variis industriis et mechanicis et technicis, artificiis et technologiae nostrae mercatu facto probatae sunt. Haitongda instrumenta analytica specialia ad notas mundi claras creverunt. Societas nostra pervestigavit et elaboravit instrumenta probationis necessariae in opibus unconventionalibus olei et gasi, aquae profundae, hydrae gasi naturalis et exercitatio intelligentis, ac deinceps varias novarum rerum productarum, ut ultra-HTHP rheometer, exercendis fluidis systematis tentationis et aquae profundae. humilis temperatura exercendi fluidi probandi systema, quod opportune occurrit necessitatibus progressui technologici in exercenda industria. Nunc praebemus qualitatem officia et fructus practicos ad plus quam 3,000 clientium in plusquam XX regionibus et regionibus circum orbem terrarum. Lupum Lab Mixing Tank Model ZXP-30L, elige Sinas officinas Haitongyuanda Specialis Instrumenti, professionalis Lab Mixing Tank Model ZXP-30L opificem. Maximum Quality, Novissimum, Novissimum, Provectae et novissimae res emendas ex officina nostra parvo pretio emere potes.
5. FAQ
A1 : fabricamus sumus.
A2 Notam nostram est Haitongda, quae in Sinis aliisque natione clarissima est. Etiam OEM facimus.
3): Quae sunt negotia tua scopo et producto classificatione?
A3 Scopus .negotium. Instrumentum analysis lutum, electronic producta, instrumentum speciale, forma designandi et fabricandi; Instrumentum conservationem et venditiones, importationem et exportationem bonorum ac technologiarum.
Product divisio analysin umoris exercendis instrumentum olei ell caementum probandi instrumentum et solutionem altiore campi, inter 22 parva genera et supra 120products.
4): Quod est tuum MOQ pro ordine?
A4 : Testers per 1 set.
5): Quid est tempus instrumenti tui warantum?
A5 : annus unus.
6): Possumne melius offerre si ordo noster maior esse potest?
A6 : Vtique. Meliora tibi pretia dabimus secundum quantitatem ordinis vestri.
7): Quid habes libellum pro instrumento tuo?
Q7 : ISO, SGS et cetera.
8): Quod est tempus tuum ducunt ad ordinem nostrum?
A8 : Pro novo ordine: per 3 septimanas.
Pro stock order: 3 working days after T/T. Ex MALITIA Qingdao.
9): Quid tibi prodest officinas tuas?
A9 : Nos sumus ministerium oleum originalem designatum instrumentorum analysin exercendorum fluidorum fabrica in Sina, quae anno 1968.
condita est.
10): Quid est processus efficiendi instrumentum?
A10 : Mitte nobis, inquisitionem electronicam mitte, quam primum tibi respondebimus.
China Lab Mixing Tank Model ZXP-30L suppliers
China Lab Mixing Tank Model ZXP-30L manufacturers