Cheap HPHT Filter Press Model GGS71-A
HPHT Filter Press Model GGS71-A Manufacturers
1. Product Introductio de HPHT Filter Press Model GGS71-A
The Model GGS71-A HTHP Filter Press (HPHT Exemplar Filter Press GGS71-A) adhiberi potest ut metiatur liquamen rate exercendorum humorum et slurariorum caementa sub condicione putei profundi (HTHP), simul adhiberi potest ad conficiendum placentam caenam post filtationem sub in HTHP conditionibus. Characteres magnae subtilitatis, parvae erroris, simplicis operationis et accuratae mensurae notitia. Apparatus late in variis oleis, investigationis institutionibus et laboratoriis adhibitus est.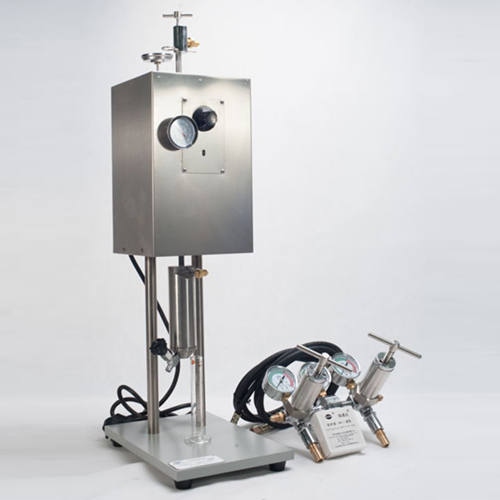 > span>
Instrumentum secundum a. Commendatur programmata ab API edita. Adhiberi potest in range temperatura a cella temperie ad 232 . Maximum opus pressionis ad poculum experiendum exercendorum humorum est 10MPa.
Instrumentum corrosionis resistens ferro immaculato utitur EXERCITATIO umoris poculi, electrici calefactio iaccam cum latis thermostatica potestate, testa ferro immaculata, stratum velit externum calefactivum. Notas habet cycli longi muneris, altae accurate mensurae, parvum iteratum errorem, securam et certam, simplicem operationem, notitias accuratas testium et cetera.
2. Product Type Specification of HPHT Filter Press Model GGS71-A
| | |
| --- | --- |
| Model | Name |
| GGS71-A | HTHP Filter Press |
3. Product Technical Specification of HPHT Filter Press Model GGS71-A
No.

Technical Specification

1

Potentia copia

Rated potentia

1000W

3

EXERCITATIO umoris poculi pressionem laborat

7.1MPa

4

Limit pressionem poculi exercitio fluidi

10MPa

5

pressura Back

3.5MPa

6

Exercitatio fluidi poculi capacitatis

500ml

7

Efficax adficio regio

8

Aeris copia

Nitrogen, gas dioxidum carbonii (sine oleo, aqua et aliis immunditiis

9

operandi temperamentum

Ad locus temperatus 232℃

10

Net pondus / pondus grave

11

Super dimensionibus

480×350×780mm

12

Sarcina amplitudo

790×450×415mm
4. Societas Introductio HPHT eliquare Press Model GGS71-A
R&D committitur societas nostra. et fabricandi analysrem fluidi exercendi, oleum bene testam cementi, laboratorium oilfield solutiones machinationis integrae et instrumenti experimentalis sustentationis officia. Praeteritis XL annis, cum cura et auxilio utentium oilfield, periti ex variis industriis et mechanicis et technicis, artificiis et technologiae nostrae mercatu facto probatae sunt. Haitongda instrumenta analytica specialia ad notas mundi claras creverunt. Societas nostra pervestigavit et elaboravit instrumenta probationis necessariae in opibus unconventionalibus olei et gasi, aquae profundae, hydrae gasi naturalis et exercitatio intelligentis, ac deinceps varias novarum rerum productarum, ut ultra-HTHP rheometer, exercendis fluidis systematis tentationis et aquae profundae. humilis temperatura exercendi fluidi probandi systema, quod opportune occurrit necessitatibus progressui technologici in exercenda industria. Nunc praestamus qualitates officia et fructus practicos ad plus quam 3,000 clientium in plus quam 20 terris et regionibus circum orbem terrarum.
5. FAQ
A1 : fabricamus sumus.
A2 Notam nostram est Haitongda, quae in Sinis aliisque natione clarissima est. Etiam OEM facimus.
3): Quae sunt negotia tua scopo et producto classificatione?
A3 Scopus .negotium. Instrumentum analysis lutum, electronic producta, instrumentum speciale, forma designandi et fabricandi; Instrumentum conservationem et venditiones, importationem et exportationem bonorum ac technologiarum.
Product divisio analysin umoris exercendis instrumentum olei ell caementum probandi instrumentum et solutionem altiore campi, inter 22 parva genera et supra 120products.
4): Quod est tuum MOQ pro ordine?
A4 : Testers per 1 set.
5): Quid est tempus instrumenti tui warantum?
A5 : annus unus.
6): Possumne melius offerre si ordo noster maior esse potest?
A6 : Vtique. Meliora tibi pretia dabimus secundum quantitatem ordinis vestri.
7): Quid habes libellum pro instrumento tuo?
Q7 : ISO, SGS et cetera.
8): Quod est tempus tuum ducunt ad ordinem nostrum?
A8 : Pro novo ordine: per 3 septimanas.
Pro stock order: 3 working days after T/T. Ex MALITIA Qingdao.
9): Quid tibi prodest officinas tuas?
A9 : Nos autem originale oleum liquidum ministerium designatus exercendis armorum fabrica analysis, in Sina, in MCMLXVIII, quae condita est. span> p>
X): quid fiet, ut in processus fieri nonne possunt? span> strong> p>

A10 : quaeso, mitte nos mail inquisitionis ergo faciemus respondeo vobis quam primum. span> p>
HPHT Filter Press Model GGS71-A Made in China
China HPHT Filter Press Model GGS71-A Manufacturers