Wholesale Torsional Spring Dynamometer Model NLJ-A
China Torsional Spring Dynamometer Model NLJ-A manufacturers
1. Product Introductio Torsional Spring Dynamometer Model NLJ-A
Torsion fons dynamometer designatus est uti in recalibrando torsionis fontes pro viscometris gyratoriis. Torsiones fontium ab instrumentis removendi sunt ad hanc calibrationem faciendam. Instructio haec describit reprehendo et accommodans vim torsionis ita ut fons notus torques notam deflectentem efficiat (dialis lectio). In hac calibratione pondera notarum adhibebuntur ad notam quantitatem rotationis angularis vectis bobe, seu lectionis horologii. The Newton-cm of torque/gradus dial deflexionis notus est factor K1. K1 (fontis factor) adaptatur activum longitudinem veris aptando.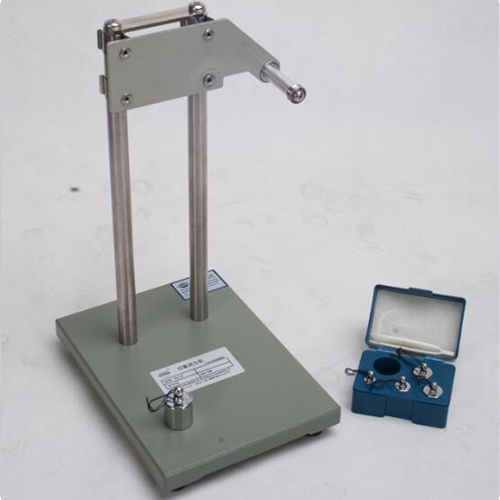 > span>
Fixture calibrationis ut adhiberi:
Calibratio substitutionis vere cum instituuntur. span>
Verificationem calibrationis ver bealready in instrumento.
Re-calibratio fontis esto iam in instrumento.
Reprehende partes sequentes Rheometri ad runout vel damnum. Si quaelibet harum partium incurvata vel aliter laesa sit, reparationes faciendae sunt antequam prosperitas calibratiis peragi potest.
Reprehende sequentia:
Bob Shaft et Bob pro runout – Corrige vel reponere.
Maximum totali runout permissum est 0.005 in (0.127 mm).
Sura pro runout reponere.
Maximum totali runout permissum est 0.005 in (0.127 mm).
deformatum vel laesum ver -- Restituo .
Mis-aligned dial "0" -- Recita nulla, (Refer ad sectiones 3-F7 vel 4-F9).
Torsion hastile gestus defectivum -Replace.
2. Product Type Specification of Torsional Spring Dynamometer Model NLJ-A
| | |
| --- | --- |
| Model | Name |
| NLJ-A | Torsion fons dynamometer |
3. Product Technical Specification of Torsional Spring Dynamometer Model NLJ-A
No.

Technical Specification

1

Mensura range

Intus norma valoris rigoris vernae, continue laborare potest (pondus ab 1 g ad 70 g span>

Net pondus / pondus grave

3

Super dimensionibus

4

Sarcina amplitudo

385×205×230mm
4. Societas Introductio Torsional Spring Dynamometer Model NLJ-A
5. FAQ
A1 : fabricamus sumus.
A2 Notam nostram est Haitongda, quae in Sinis aliisque natione clarissima est. Etiam OEM facimus.
3): Quae sunt negotia tua scopo et producto classificatione?
A3 Scopus .negotium. Instrumentum analysis lutum, electronic producta, instrumentum speciale, forma designandi et fabricandi; Instrumentum conservationem et venditiones, importationem et exportationem bonorum ac technologiarum.
Product divisio analysin umoris exercendis instrumentum olei ell caementum probandi instrumentum et solutionem altiore campi, inter 22 parva genera et supra 120products.
4): Quod est tuum MOQ pro ordine?
A4 : Testers per 1 set.
5): Quid est tempus instrumenti tui warantum?
A5 : annus unus.
6): Possumne melius offerre si ordo noster maior esse potest?
A6 : Vtique. Meliora tibi pretia dabimus secundum quantitatem ordinis vestri.
7): Quid habes libellum pro instrumento tuo?
Q7 : ISO, SGS et cetera.
8): Quod est tempus tuum ducunt ad ordinem nostrum?
A8 : Pro novo ordine: per 3 septimanas.
Pro stock order: 3 working days after T/T. Ex MALITIA Qingdao.
9): Quid tibi prodest officinas tuas?
A9 : Nos sumus ministerium oleum originalem designatum instrumentorum analysin exercendorum fluidorum fabrica in Sina, quae anno 1968.
condita est.
10): Quid est processus efficiendi instrumentum?
A10 : Mitte nobis, inquisitionem electronicam mitte, quam primum tibi respondebimus.
Wholesale Torsional Spring Dynamometer Model NLJ-A suppliers
China Torsional Spring Dynamometer Model NLJ-A suppliers